RTA envisions a region with sufficient and stable funding to support improved public transit options that will advance equity by increasing accessibility; satisfy the integrated mobility needs of Southeast Michigan communities; and promote livable, healthy, and sustainable growth. In order to develop a strategic agenda, and to coordinate ongoing and future planning activities, RTA has embarked on an update to its Regional Transit Master Plan (RTMP). ADVANCE 2021 is RTA's RTMP and will guide strategic planning activities in Southeast Michigan over the next 20 years.
RTA is currently in the process of updating the RTMP. You can find events where we are engaging the community at our Public Events Calendar. Take the survey here.
2021 Advance Regional Master Transit Plan (RMTP)
2022 Regional Master Transit Plan Update
RTA recently completed a strategic analysis of major regional transit corridors and their competitiveness for FTA's Capital Investment Grant program. The Regional Transit Corridor Strategy report lays out that analysis and a strategy for moving forward with implementing these corridors in partnership with the transit providers and MDOT.
Regional Master Plan Process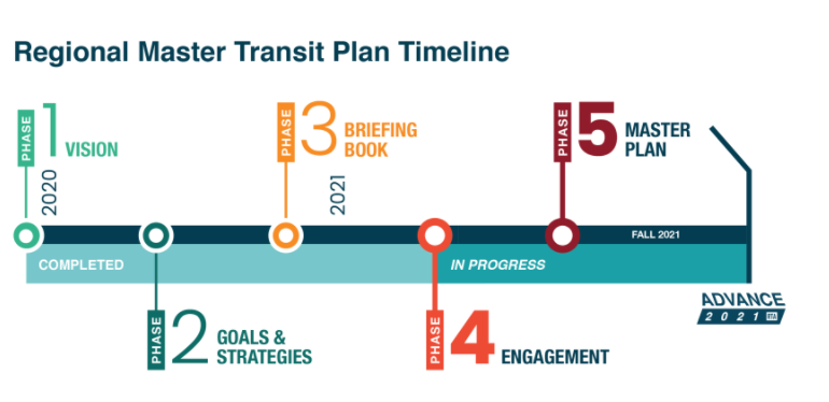 A foundational step in the planning process is this Southeast Michigan Regional Transit Briefing Book (Briefing Book). The purpose of the Briefing Book is to:
Provide the public with a baseline understanding of the existing regional transit system.
Share recently completed and ongoing planning efforts to improve the system.
Describe the benefits of improved transit to the region's residents and businesses.
Present an updated Vision, Goals, and Strategies for improved regional transit.
Set a framework for public engagement.
2021 Regional Transit Briefing Book
In order to create a plan to improve public transit that meets the needs of Southeast Michiganders, RTA conducted surveys, virtual open house meetings, community listening sessions, and targeted rider outreach. Between May and September 2021, RTA heard from over 4,370 people through the following methods:
Nine virtual open houses
Over a dozen targeted listening sessions
Online survey
General public survey
Transit rider survey