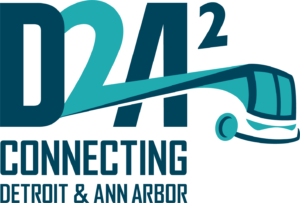 D2A2
This service will re-open on October 18, 2021.
D2A2 is a pilot commuter bus service connecting Detroit and Ann Arbor, MI. The new bus service is an idea created by the Regional Transit Authority of Southeast Michigan (RTA), in partnership with the Ann Arbor Area Transportation Authority (TheRide) and operated by Michigan Flyer. The service usually provides hourly trips between the two communities for 16 hours a day during the week (6:00 a.m.-11:00 p.m.) and limited service on Saturday and Sunday. ]The D2A2 service offers convenient, affordable and reliable transportation for patrons between the two cities. One-way fares for this service are $8 base fare, $6 advanced booking discount, $5 Book of 10 and $4 eligible senior/disability fare.

Click here to learn more and purchase tickets.
Fares
A variety of fare options are available to meet the needs of all travelers. Please see fare options below:
One-way fares: $8 base fare
Advanced booking discount: $6
Eligible senior/disability fare: $4**
Best Offer: Book of 10: $5 each ($50 total)*
Learn more and purchase fares.
*To purchase a book of 10 rides or buy tickets without a digital device, call our Michigan Flyer office M-F 8:00AM-5:00PM at 517-333-0400
** Reduced fares are available for senior citizens (65+) and persons with disabilities. To be eligible, an individual must show one of the following: a valid AAATA, DDOT, SMART or State of Michigan Senior/Disability ID card, or a valid disability ID from another transit agency with any valid government-issued photo ID card.
TEMPORARILY MODIFIED SCHEDULE
| | | |
| --- | --- | --- |
| Westbound | Depart | Arrive |
| Schedule # | Detroit | Ann Arbor |
|   |   |   |
| 101 | 5:45 AM | 6:45 AM |
| 103 | 6:30 AM | 7:30 AM |
| 105 | 7:15 AM | 8:15 AM |
| 107 | 8:15 AM | 9:15 AM |
| 109 | 9:00 AM | 10:00 AM |
| 111 | 9:45 AM | 10:45 AM |
| 113 | 10:45 AM | 11:45 AM |
| 117 | 12:15 PM | 1:15 PM |
| 119 | 1:15 PM | 2:15 PM |
| 123 | 2:45 PM | 3:45 PM |
| 125 | 3:45 PM | 4:45 PM |
| 127 | 4:30 PM | 5:30 PM |
| 129 | 5:15 PM | 6:15 PM |
| | | |
| --- | --- | --- |
| Eastbound | Depart | Arrive |
| Schedule # | Ann Arbor | Detroit |
| 102 | 6:00 AM | 7:00 AM |
| 104 | 7:00 AM | 8:00 AM |
| 106 | 7:45 AM | 8:45 AM |
| 108 | 8:30 AM | 9:30 AM |
| 110 | 9:30 AM | 10:30 AM |
| 112 | 10:15 AM | 11:15 AM |
| 114 | 11:00 AM | NOON |
| 116 | NOON | 1:00 PM |
| 120 | 1:30 PM | 2:30 PM |
| 122 | 2:30 PM | 3:30 PM |
| 126 | 4:00 PM | 5:00 PM |
| 128 | 5:00 PM | 6:00 PM |
| 130 | 5:45 PM | 6:45 PM |
| | | |
| --- | --- | --- |
| Westbound | Depart | Arrive |
| Schedule # | Detroit | Ann Arbor |
| | | |
| 155 | 11:45 AM | 12:45 PM |
| 165 | 3:45 PM | 4:45 PM |
| | | |
| --- | --- | --- |
| Eastbound | Depart | Arrive |
| Schedule # | Ann Arbor | Detroit |
| 160 | 9:45 AM | 10:45 AM |
| 170 | 1:15 PM | 2:15 PM |
| 180 | 5:15 PM | 6:15 PM |